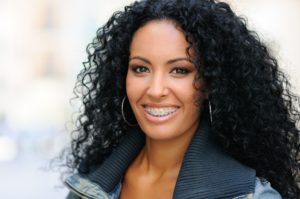 If you have braces as a teen, you might be surprised if your teeth have shifted over the years. It's not uncommon for teeth to move a little with age, especially if you haven't been wearing your retainers. You can have a straight smile again because you're never too old for braces. While it's not always necessary, some adults can benefit from getting braces twice. Thankfully, you have many options to choose from to keep your treatment discreet.
Options for Adult Braces
1 in 5 orthodontic patients is over the age of 18, thanks to a variety of treatment options. Although every situation differs, you can benefit from:
Traditional Braces
Traditional metal braces use a system of brackets and wires to pull teeth into position. Advancements in dentistry allow them to be less noticeable than before with tooth-colored brackets and wires.
Traditional braces can fix the most complex bite and alignment issues, but they are also suitable for patients needing minor adjustments. Depending on the complexity of your case, you can see results in 12-24 months.
Invisalign
Invisalign differs from metal braces because no brackets or wires are used. Instead, customized aligners are worn over your teeth to reposition them gradually.
You'll wear each set of aligners in your series for 1 to 2 weeks, as instructed by your dentist. You must commit to wearing them for at least 22 hours per day to ensure there aren't any delays in your treatment.
On average, patients are finished with their treatment in 12 months. You won't have to worry about the noticeability of metal braces to maintain a sophisticated appearance.
Benefits of a Straight Smile
Straight teeth are important for more than just a beautiful smile. Alignment issues can affect your oral health, like increasing your risk of tooth decay, gum disease, breaks, and enamel erosion. Fixing gapped, overcrowded, or rotated teeth will lessen the likelihood of preventable issues. Not only will you lower your long-term oral health expenses, but you'll also support your general wellness.
Researchers have found a close connection between oral and general health. Good oral health is important for a healthy body.
Although no one ever expects to need braces again, it can be beneficial for some adults. Your dentist will examine your mouth and learn more about your concerns to determine if orthodontics is right for you. They'll help you achieve your best smile using the latest advancements in dentistry.
About Dr. Caitlyn Le
Dr. Le earned her dental degree at Texas A&M College of Dentistry and has regularly continued her training in many specialties, including orthodontics. She strives to create healthy, beautiful smiles through patient-focused dental care. If you're interested in adult braces, request an appointment through our website or call (972) 846-0581.