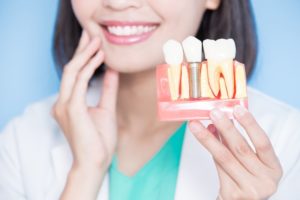 Dental implants are considered the gold standard of tooth-loss solutions. In addition to being incredibly lifelike, they are also a long-lasting option for missing teeth. Their reliability comes from the fact that they replace the entire tooth structure, from root to crown. But exactly how safe are they? Your dentist in DeSoto has what you need to know!
How Safe Is It to Get Dental Implants?
For the vast majority of people struggling with tooth loss, dental implants are one of the safest solutions. As a matter of fact, they have been considered an extremely safe tooth replacement for over three decades! The biocompatible steel posts integrate fully and easily with the jawbone tissues. It even adds to your oral health, stimulating the muscles of the jaw, thus benefitting your teeth. These factors contribute to their durability, avoiding excessive wear and tear. Furthermore, the placement process has an estimated success rate of 95% or more. This means you are not likely to experience any complications in the long run.
It is worth noting that all oral surgeries come with a slight risk of bleeding disorders, infections, and allergic reactions. Your dental team will take a thorough health inventory if you are considering dental implants. No matter what, they will always take the necessary precautions beforehand to ensure your safety and comfort throughout treatment.
Factors That Could Compromise Your Dental Implants
It is important that your oral health is in good condition before going forward with the procedure. Your dentist will make sure that any dental issues, such as gum disease or cavities, are treated beforehand. Additionally, if your jawbone isn't dense enough to support implants, a bone graft may be necessary before proceeding. If these concerns are not treated, they could lead to complications during implant placement.
Some other factors that may cause implant failure include:
Autoimmune diseases – Health conditions like diabetes and rheumatoid arthritis can slow down the healing process and prevent your implants and jawbone from fusing properly.
Certain medications – Some medications can suppress the body's immune system or affect bone health. Your dentist will take note of your medications and help you and your doctor come up with a plan to avoid ones that could negatively impact osseointegration.
Poor oral hygiene – It's important to take good care of your smile by brushing twice a day and flossing at least once daily. If not, you are susceptible to oral health issues that could harm your implants, such as gum disease.
Bad oral habits – Drinking excessively, smoking cigarettes, using tobacco products, eating too much sugar, and using your teeth as tools can greatly increase your risk of implant failure and other oral health issues.
As you can see, dental implants are not just a reliable and natural way to restore your smile: they are safe, too! As long as you take the necessary precautions before and after receiving your restoration, you can count on healthy pearly whites for years to come.
About the Practice
Amaze Dental keeps the smiles of DeSoto whole and healthy through the expertise of their two dentists. They provide a full range of comprehensive dental services, including restorative care such as dental implants. Implant restoration and placement are all done in-house, and they even offer mini-dental implants for those with limited bone tissue. To schedule a consultation, visit their website or call (972) 230-1100.